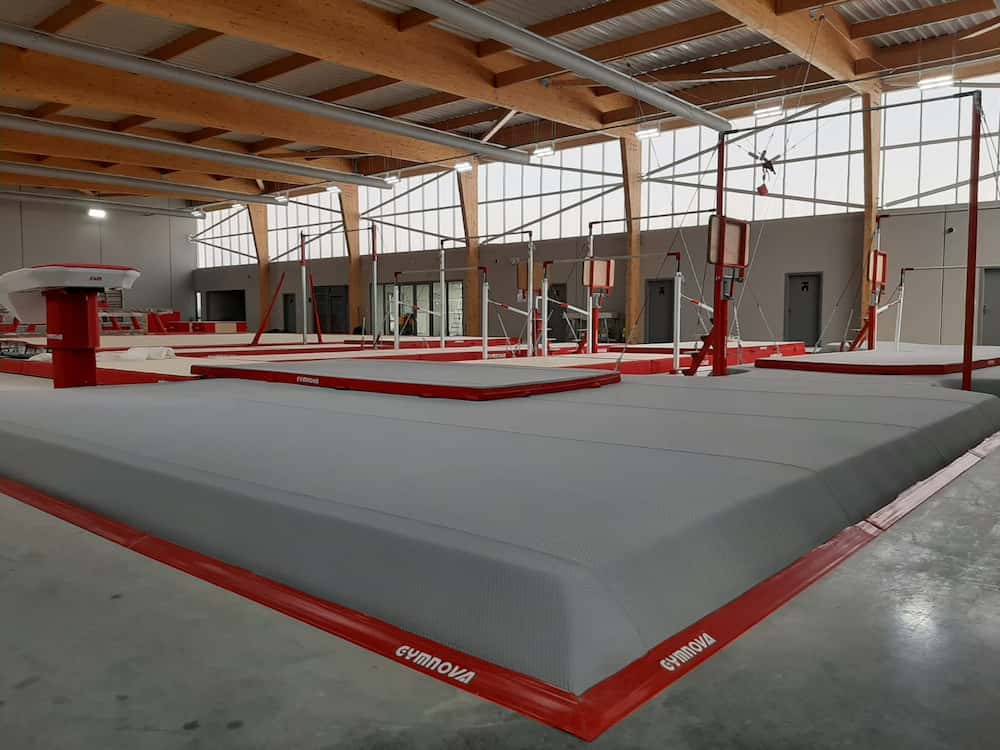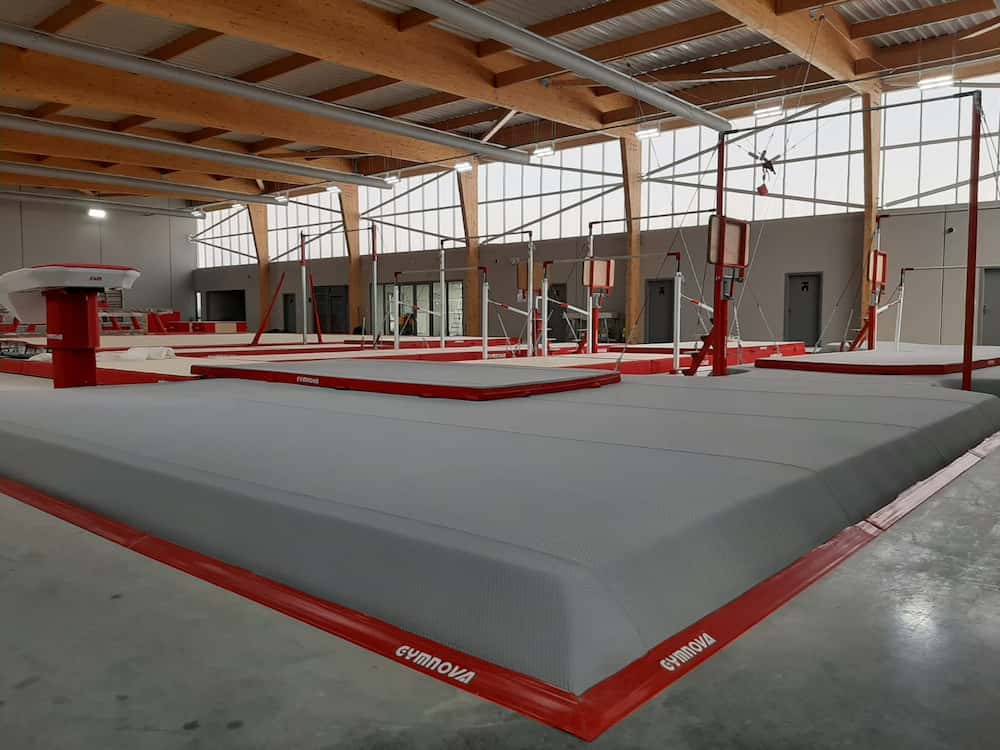 Landing Pits
Designed to ensure the safety of gymnasts our landing pits are ideal to begin the learning of new skills. Their shock-absorbing ability allow the reduction of apprehension of the users and accelerating the control of new skills, from the most basic to more difficult. These landing pits can be used for each apparatus by being installed in the dismount of an acrobatic track, a trampoline, a vault table or parallel bars and beam. They may also be placed under rings, asymmetric bars and high bar. Versatile and essential to learn in safely and without fear. Whether raised, full built-in or with foam cubes they provide a clear view of the reception/landing area.
All our landing pits are made in France ensuring longevity and quality.
How to choose your landing pit for your specific gymnastics hall ?
Sunken landing pits
Our sunken landing pits can be suspended (Ref. 7093), with foam cubes (Ref. 7094) or full built-in (Ref. 7098). They ensure safe learning due to their optimal shock-absorption, their comfort of use and their visibility of the reception area. This type of pit is the most common and is excavated directly into the ground of your hall or your structure.
Suspended landing pits (Ref. 7093) have a minimal depth of 1.20 m while the full built-in landing pits (Ref. 7098) only need 0.62 m. Both are fabric covered with molded PVC edge, mat with polyurethane foam and protective interface. They are different because the first has a support net while the second is composed of interlocking solid cellular foam sections. These two technologies offer progressive shock-absorption to users.
Landing pits with foam cubes (Ref. 7094) also have a support net ensuring progressive shock-absorption. Additional mats and edge guards complete the installation so security is always present. Finally, the foam cubes are of three different sizes in order to ensure natural random mixing of the cubes avoiding mass grouped storage.
As an alternative we also offer the option of a "giant swing" landing pit (Ref. 7095) these enable coaches to spot gymnasts at floor level. The fear of heights can be conquered thanks to visual cues close to the floor.
Raised landing pits
Raised landing pits with integrated platform (Ref. 7099) are ideal for temporary gyms or that may be dismantled.  Avoiding the need to excavating into the ground they offer many configuration possibilities and are versatile and allow you to move from one space to another according to suit your needs.
Delivered with a platform and wooden guard rail, their interlocking solid cellular foam sections are composed of two mats, one to absorb the impact and the other to cancel the rebound effect.
Landing pits "new generation"
Our landing pits 'new generation' are available in three models: fully built-in (Ref. 7198) with foam cubes (Ref. 7194) and raised (Ref. 7097). They are designed to ensure maximum safety for gymnasts. They provide increased comfort on landing and optimal cushioning due to the design detail. They make it possible to speed up learning during training while reducing apprehension and by enhancing the performance of the most difficult exercises/skills on all apparatus.
Improving safety for gymnasts thanks to pit edges being completely guarded, ease of installation, improved hygiene, reducing risk of fire and easy to maintain. Full replacement and ease of installation of all parts… Our landing pits 'new generation' have many advantages. They are very quickly operational taking only 1 to 2 days to install.
The top mat and the cross-shaped foam at the base of the pit have been specially developed for our landing pits and offer flexibility and resistance.
Who uses the GYMNOVA landing pits?
Our products have become a reference in the gymnastics world.  These are present in more than 1200 specialized halls equipped by Gymnova worldwide. Our range includes all the accessories and apparatus necessary for the practice and progression of your gymnasts.
The landing pits do not deviate from the rule: You can complete them with our extra safety mats (Ref. 7012, Ref. 7013 and Ref. 7014). Available in three different dimensions, they are necessary to ensure the longevity of the surface of your landing pit. They are also ideal to increase the comfort and shock-absorbance which reduces the apprehension of gymnasts.
As explained previously, our landing pits can be placed in the dismount area or under any apparatus. GYMNOVA also designed the vaulting table to be positioned between trampoline and pit (Ref. 3499), to begin the learning of some vaults without fear.
Practice safely with confidence in your favorite discipline with the GYMNOVA range of landing pits!