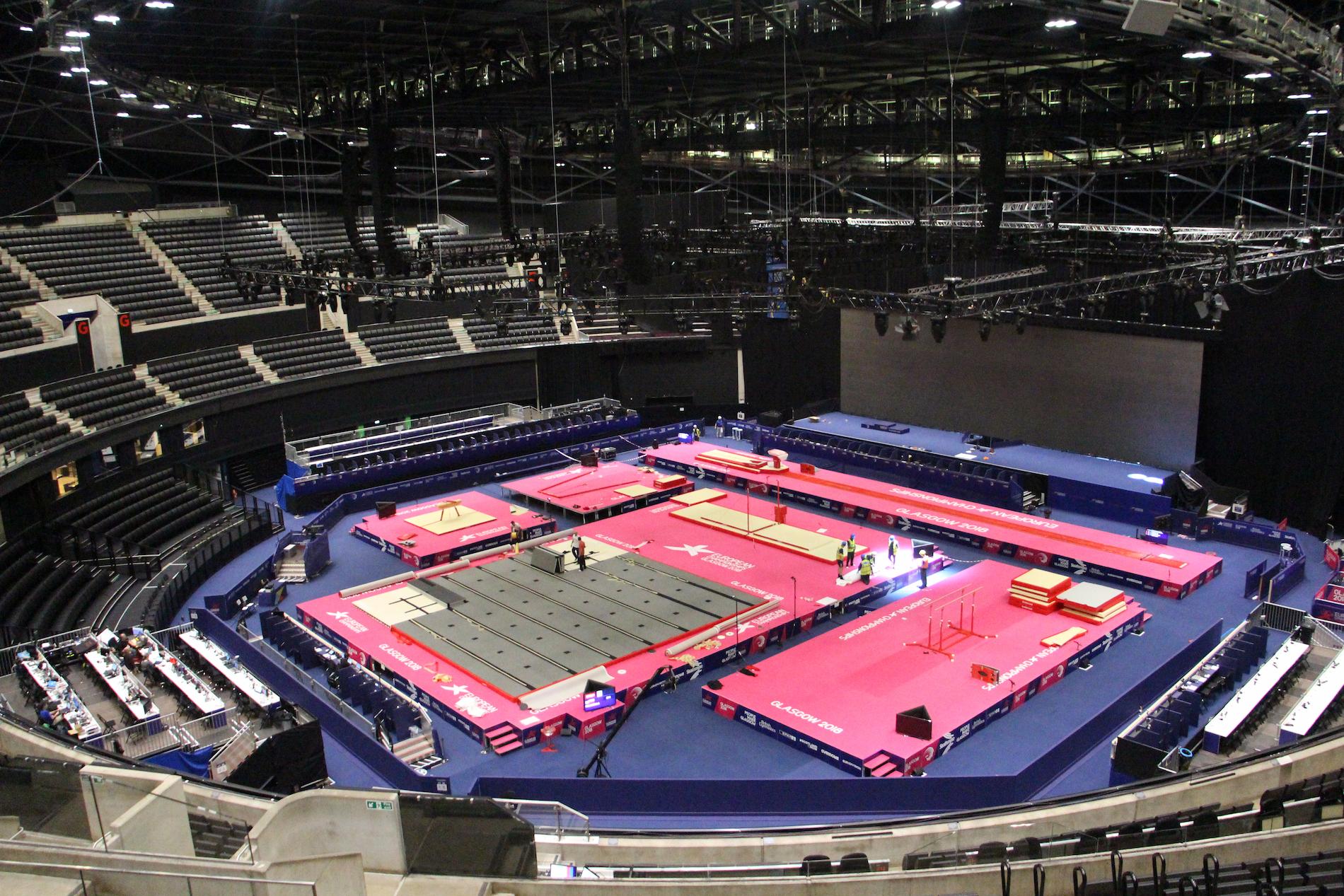 Marketing studies
Our department is entirely focused on fitting out specialist gyms and can help you with your gym project from start to finish.
Harnessing its in-depth knowledge of the world of gymnastics, the products and the design constraints, our design department can tailor your gym to maximise the available space while keeping your gymnasts safe. We will work together in designing your project, determining your needs and delivering the best-fit solution to your brief.
From the earliest stages of your project, we will liaise closely with the architect to keep a watchful eye on the construction and renovation of your buildings and make sure that everything is ready for installing the gymnastics equipment while anticipating all the worksite constraints.
Once we have completed our design, you will receive the blueprints for your specialist gym with a breakdown of the cost for the necessary equipment and installation.
Drawing on our expertise, we can also provide studies and costings for specific projects, such as building pits, creating timber frame attachments and personalising equipment (protective padding, mats, etc.), as well as bespoke products to meet all your needs and requirements.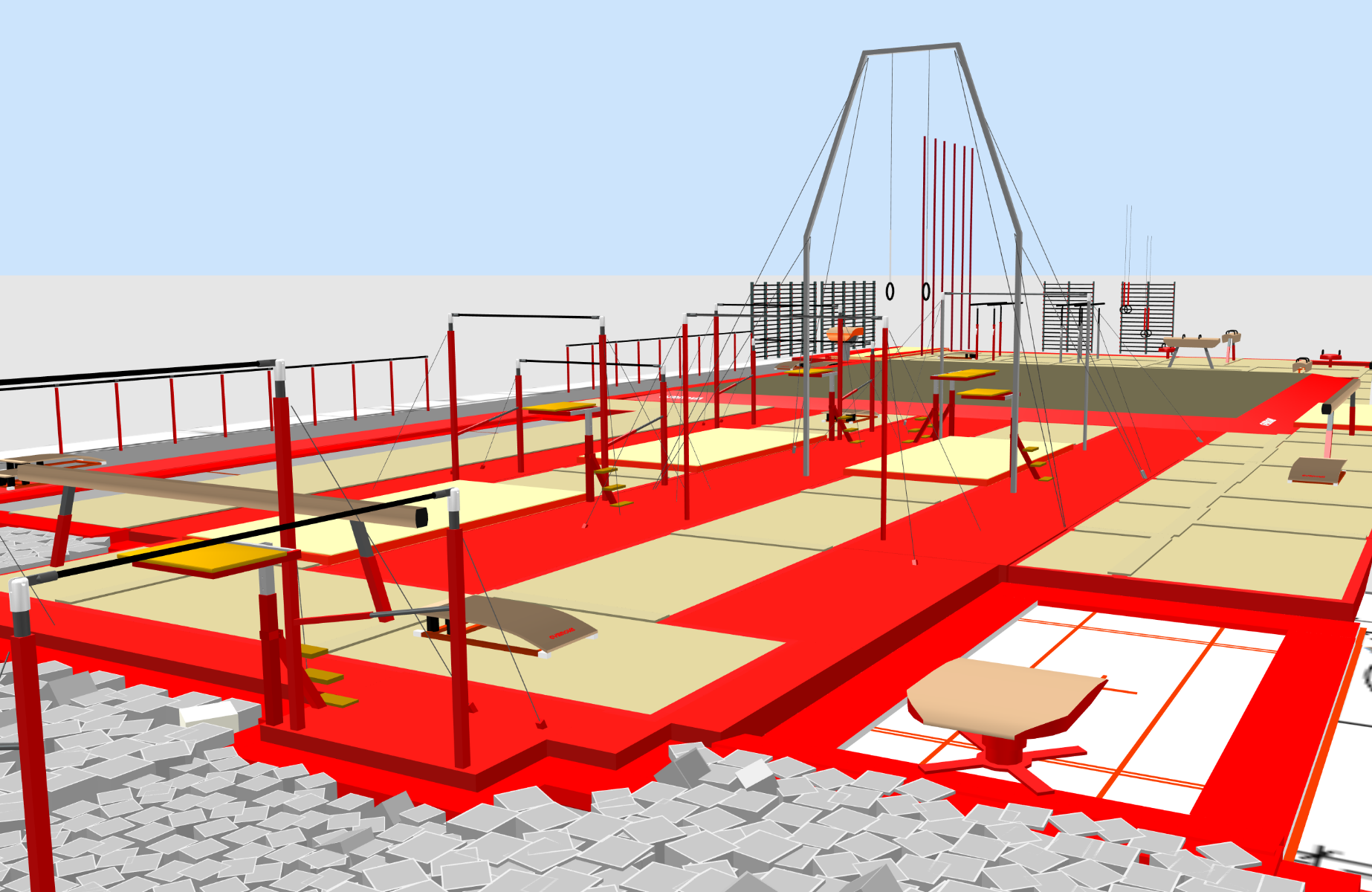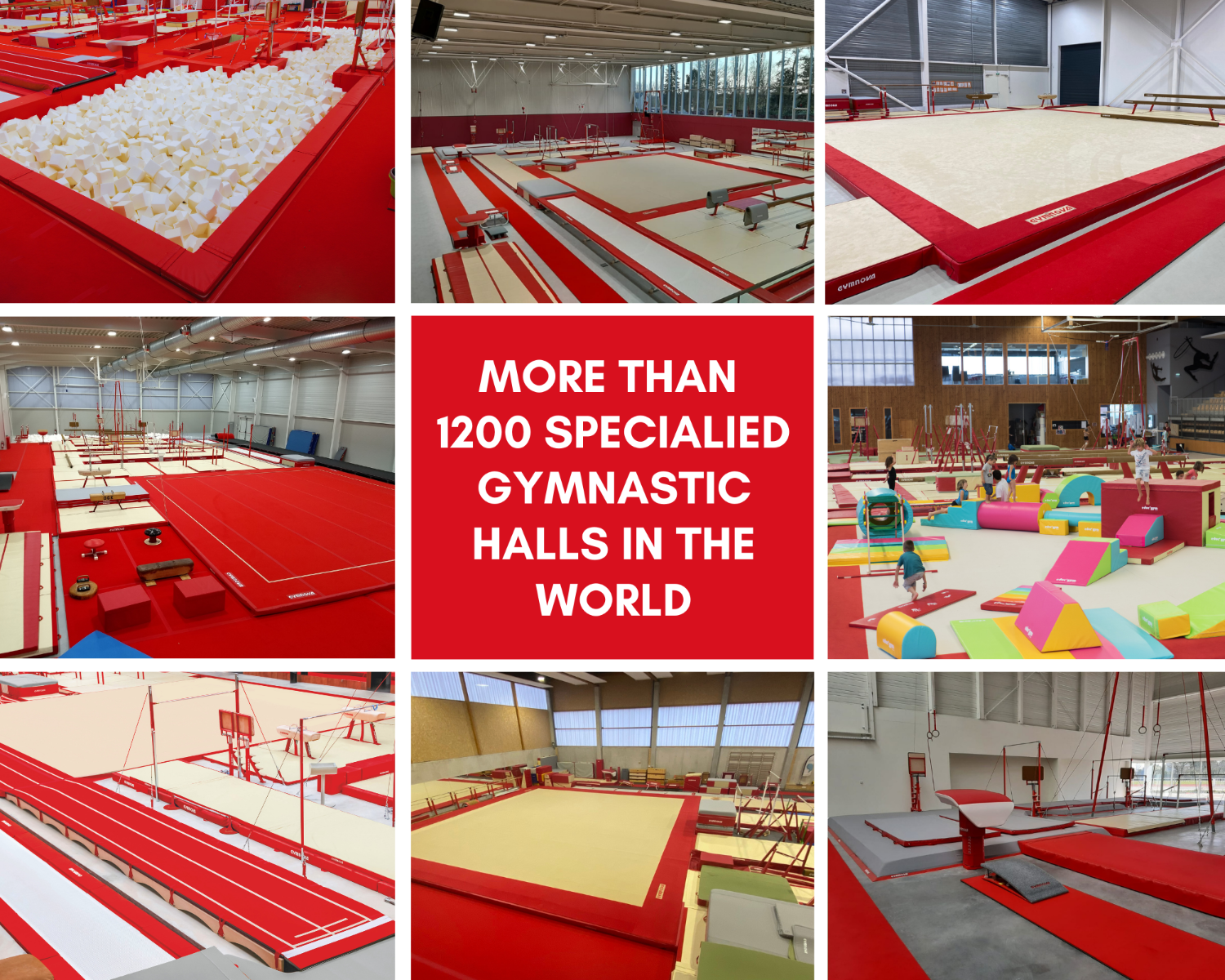 We can leverage our experience to provide an end-to-end range of expert services, whether new builds, extensions or refurbishments. Thanks to our expertise, we have created over 1,200 specialist gyms all over the world.
Here are some sample layout plans for gyms of various sizes. Note that every project brief is different, so it is vitally important for you and our teams to work together to establish your requirements and offer the best possible response to your needs.
If there is anything else that you would like to know, please get in touch. Our teams are ready to provide any further information.
GYMNOVA's advantages
Longstanding expertise and several projects every week
A team of experts based in France
Technical expertise to fulfil all our customers' needs
Support and guidance throughout your project
Installation department
Our teams of technicians – specialists in GYMNOVA products – will install your equipment to guarantee peak performance.
To provide our customers with a truly turnkey service, we have our own installation teams featuring employees from our company. Our technicians provide installation, maintenance and after-sales services for our products.
We offer a team of trained and experienced technicians with the ability to satisfy all your needs when designing your future gym.
Once your project has been launched by our sales team and design department, our installation team will spring into action and carry out all the work to build your gym:
Worksite preparation (measurements, setting out, anchors and fixings, and minor brickwork)
Timber frame work (fixing brackets at height, fastening attachments, etc.)
Bespoke installations (protective padding, landing pits, etc.)
Apparatus assembly and adjustments
Inspection and safety
Finishings
Worksite tidying and cleaning
Recycling of used products and packaging
Our team also provides all the finishing touches with the necessary care, such as laying out the mats, fitting flaps and adjusting the apparatus. They also recover and recycle all the waste from the worksite.
When carrying out their missions, our teams have access to all the tools required to install and maintain the gym equipment in accordance with applicable occupational safety rules.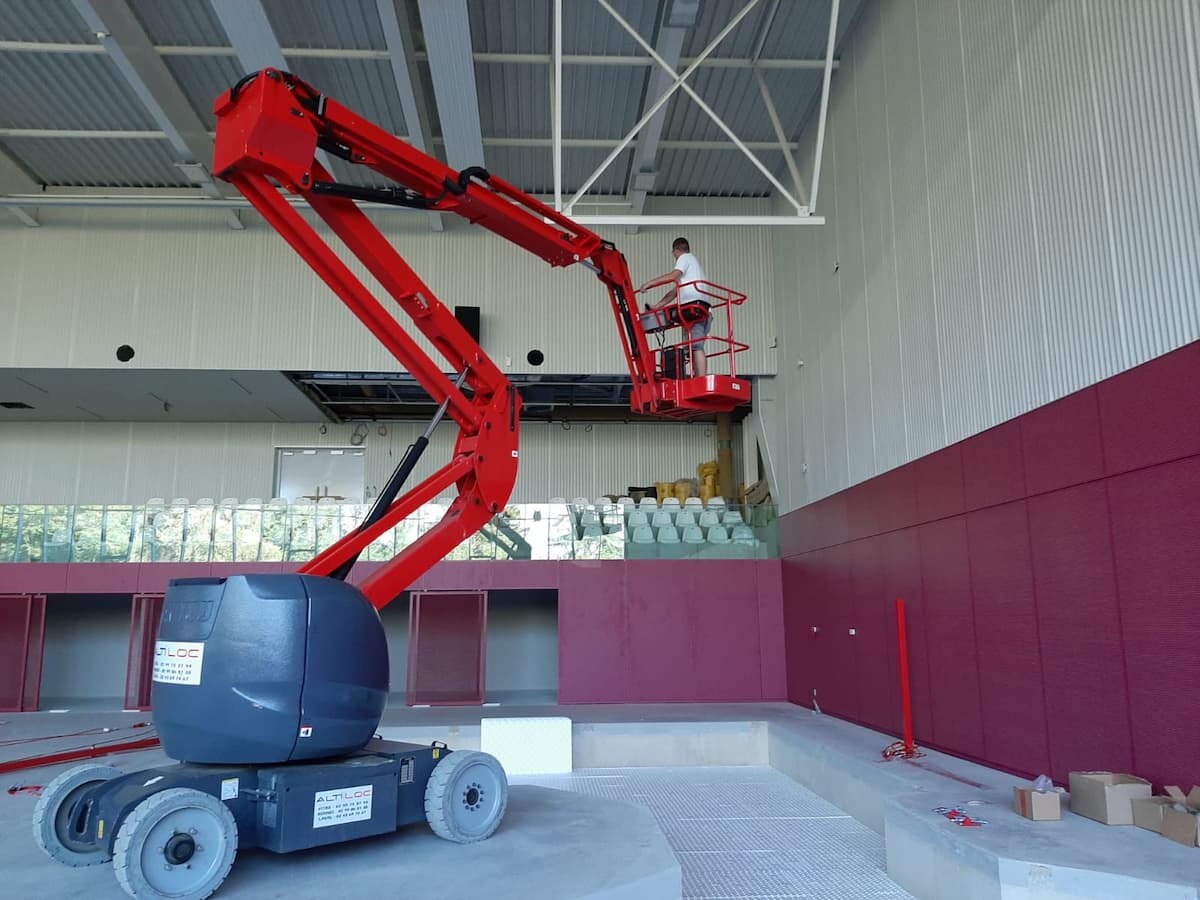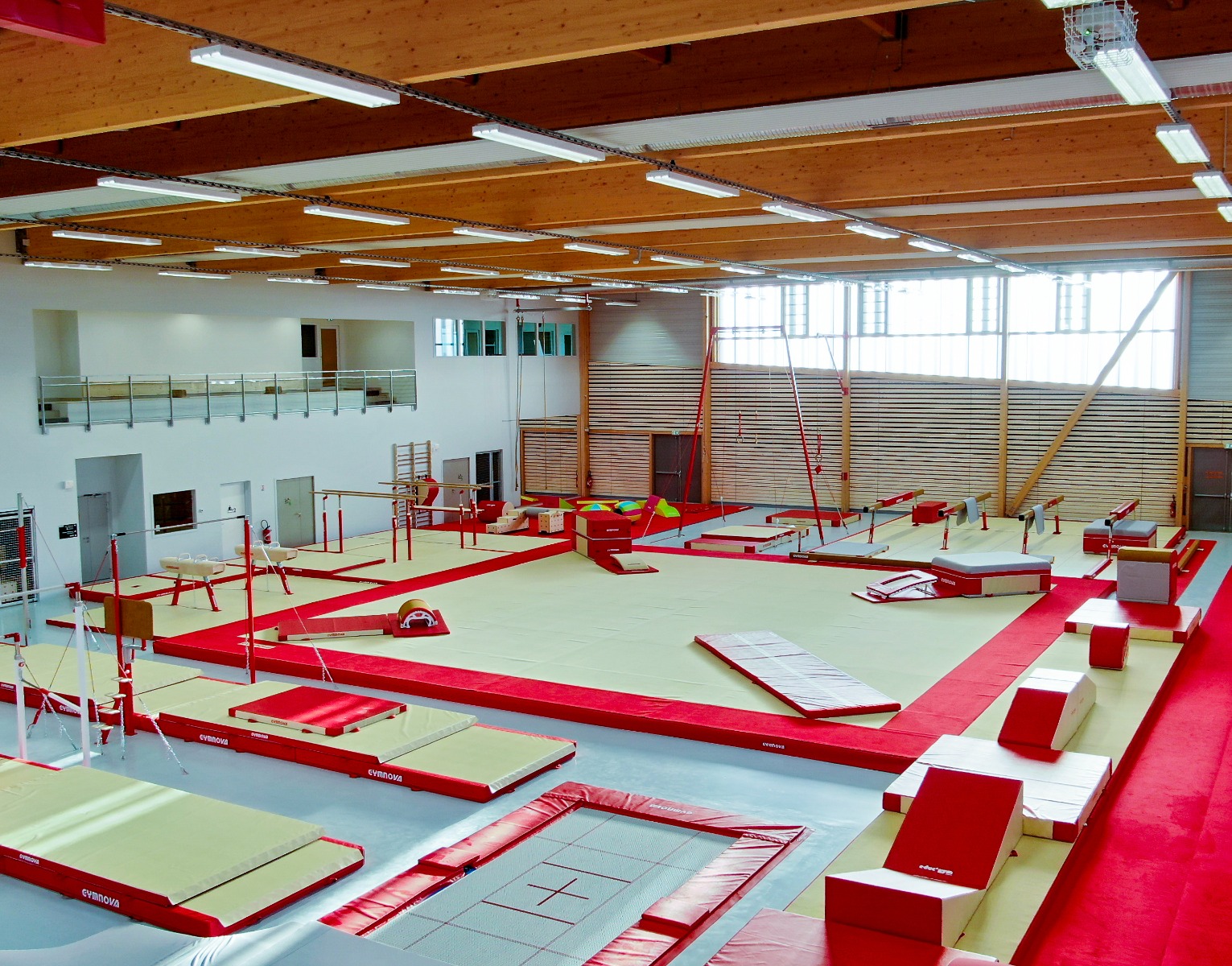 Competition department
GYMNOVA: official supplier to the biggest gymnastics events

For over 45 years, we have been providing equipment for countless national and international competitions, culminating with the Olympic Games.
Our equipment has been used for over 1,000 competitions around the world, including:​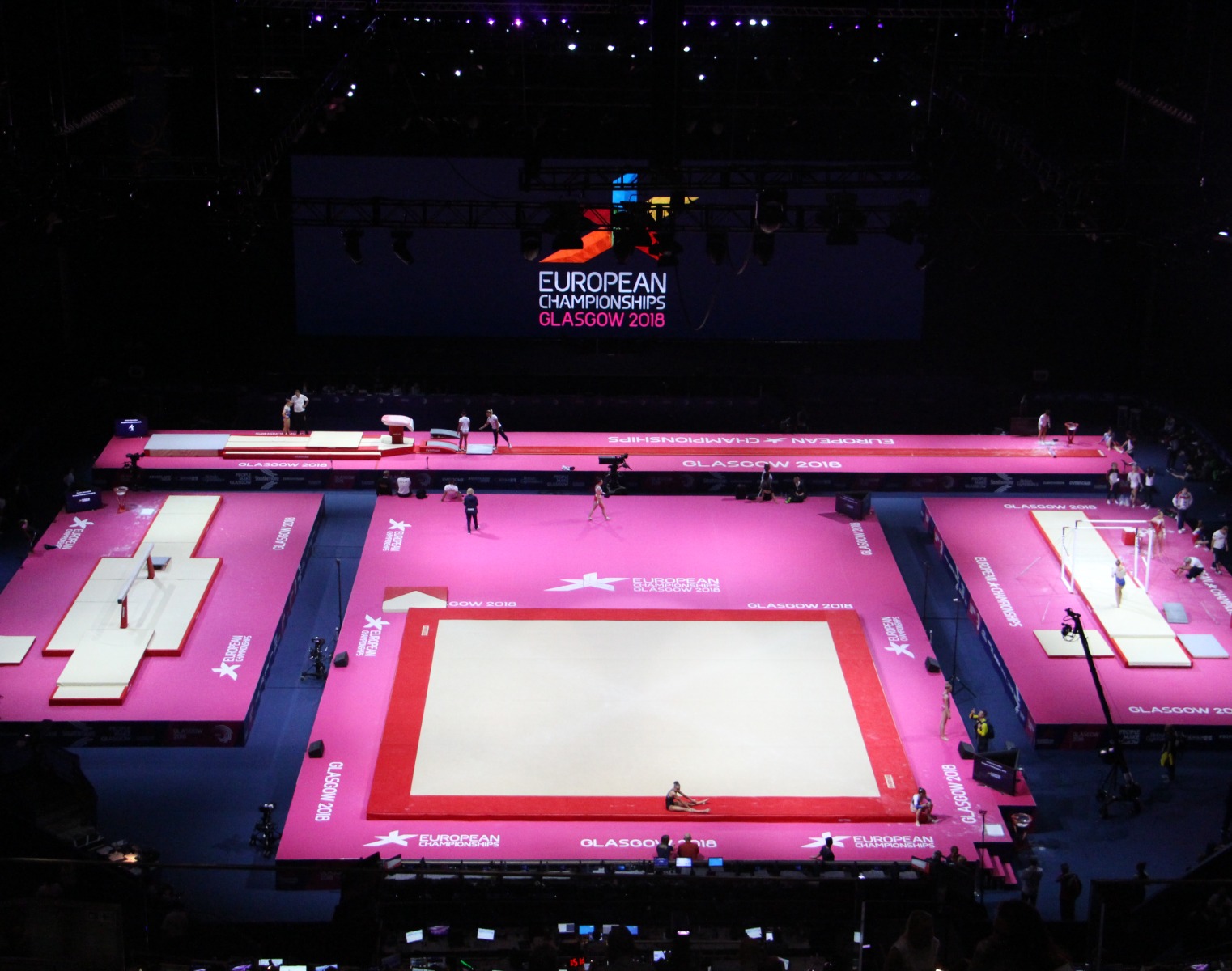 We can draw on our expertise to offer turnkey solutions for organising all your sports events, including artistic, rhythmic and aerobic gymnastics, acrobatic sports, urban gymnastics and wrestling. Several FIG-approved floors are available throughout the year to reflect the gymnastics calendar.
Depending on the competition and in an effort to meet deadlines, our team liaises with the local organising committee to ensure strict coordination by defining precise set of specifications.
Our design department produces a bespoke layout drawing for your competition, training or warm-up rooms according to your requirements. Whether apparatus, judges' tables, podiums or related products, everything is covered so that the organiser can focus on arranging the televisual, logistics and safety aspects of the competition.
Subsequently, we oversee the process of setting up the full range of competition facilities and training rooms with the local teams.
Lastly, we carry out strict inspections on our international competition floors in liaison with the FIG every day.
At the end of each sports season, our competition floors are revised, reconditioned and sold at preferential prices. You can see our list of used equipment on the website by clicking on the "second hand equipment".
After sales service
We have set up an after-sales department to assist you with any enquiries or problems. Whatever your needs, irrespective of whether or not your sports equipment is under warranty, our team would be only too happy to answer your enquiries and provide assistance in case of a problem with your equipment.
You can contact us:
Once your ticket has been opened, we will use our best efforts to identify the cause of the problem and carry out the necessary preventive and corrective actions, so that you can enjoy your equipment as quickly as possible. All services are carried out directly in our French workshops and examined by our experts with the aim of continually improving our product quality.
Because we want you to buy with confidence, our entire GYMNOVA, Educ'Gym and O'JUMP product range is covered by a five-year warranty* for any material, design or manufacturing faults under normal use..
Five year logo: GYMNOVA, Educ'Gym & O'JUMP range*
Two year logo: wear parts, easy roll runways, inflatable range, by-products
One year logo: used equipment
Non-exhaustive list; refer to our General Terms and Conditions of Sale on our website at www.gymnova.com for further information.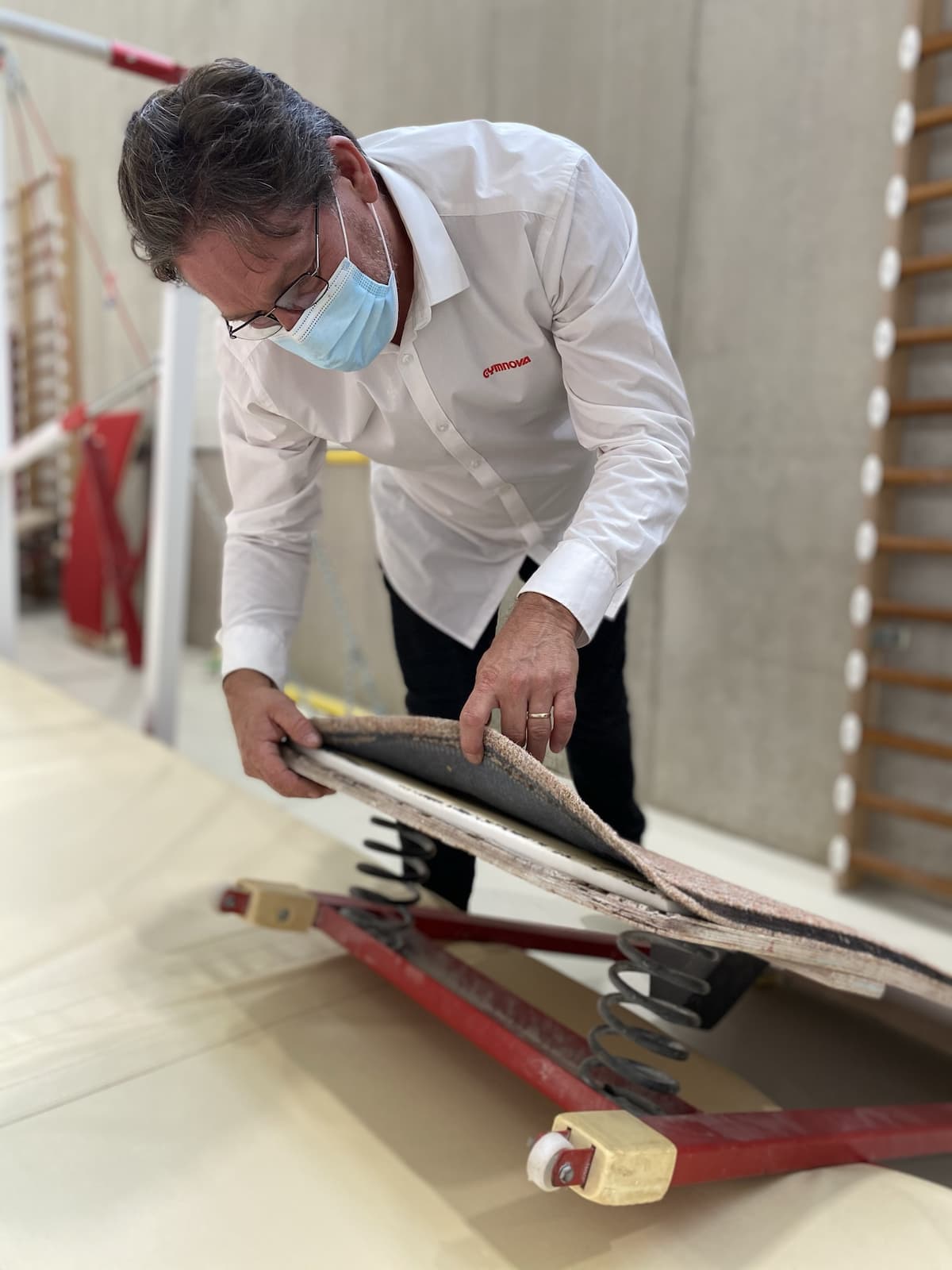 Maintenance

The annual maintenance of a specialised hall is nowadays essential for the durability of your sports equipment.
Ultimately extending the lifespan of your equipment but also its performance. The regular checks and monitoring is a key step to planning any repair or replacement parts required to operate.
GYMNOVA manufacturer of sports equipment dedicated to gymnastics for more than 40 years accompanies you by offering you a tailor-made solution of maintenance contract.
This service dedicated to the maintenance of your gymnastics facilities includes the inventory of worn parts as well as their replacement by a GYMNOVA team that will allow you to meet the maintenance obligations of sports equipment.
Discover all the advantages of the maintenance contract :
To secure your equipment, the practice of gymnastics and thus the physical integrity of the participants.
Sustain your equipment by maintaining the best performance conditions.
Plan and control your operating and investment budgets.
The assurance of proper maintenance by a specialised GYMNOVA installation team.
Quality assurance of 100% original GYMNOVA parts.
Promote your specialist room to your members and their families.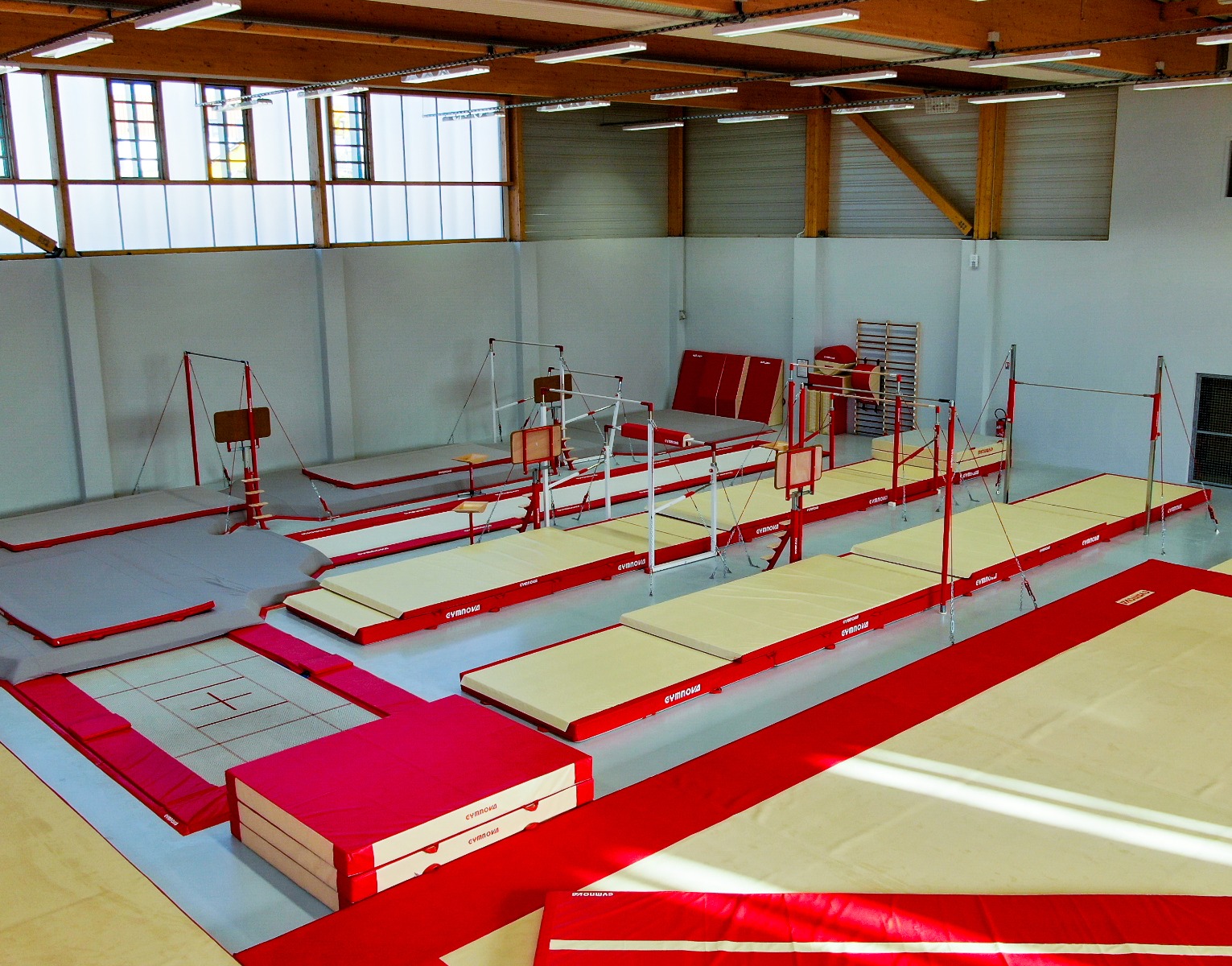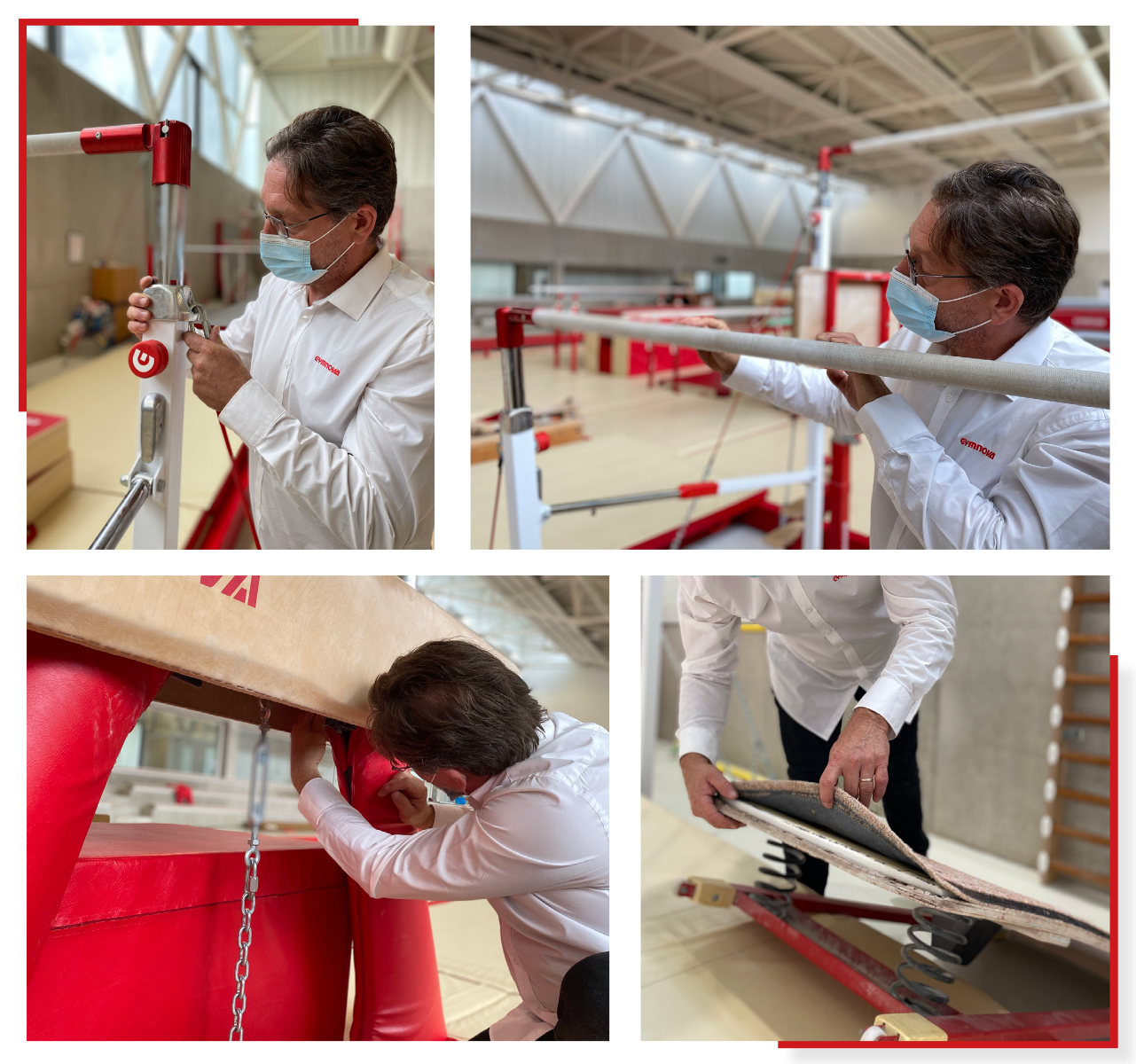 Maintenance contract - Specialist gyms
The process of this service is carried out in 6 stages with the aim of maintaining the equipment in perfect working order in compliance with the legislation in force:
Free pre-visit carried out by the technical sales representative in charge of your sector to identify the corrective actions to be taken.
Sending a written report of the pre-visit, accompanied by photos, an estimate and a maintenance contract.
Receipt and processing of your order form by our installation department.
Planning of our intervention in conjunction with your services.
Intervention of a team of specialised technicians to carry out the work according to the estimate and to adjust your equipment.
Transmission of an intervention report, to help you formalise and monitor your maintenance obligation.
Maintenance contract - Landing pits inspection & diagnosis

We also offer free, tailor-made diagnostics for your landing pits.
Benefit from the know-how of our experts !

All our teams are at your disposal and ready to listen. Do not hesitate to contact the technical sales representative for your sector to carry out a complete and free diagnosis of your gymnastics equipment in compliance with the barrier gestures.
We have designed and developed our own application to manage real-time diagnostics of your gym equipment.